About Us
About us
YoderWay Buildings was started in 2003 by Emery Yoder. Emery Yoder had experience with fabric for over 20 years, and chose to finally pursue his dream of manufacturing these truss arch style fabric buildings locally. Emery felt his experience with fabric would add a significant benefit for his customers, allowing him to manufacture a high quality fabric building.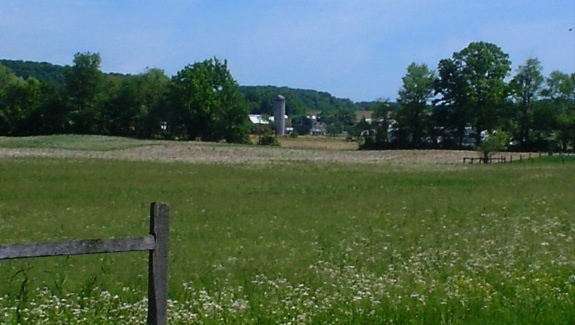 Our Philosophy
Our buildings are manufactured in our factory in the Juniata Valley of Pennsylvania by dedicated Amish and Mennonite craftsmen. Emery employed a number of fabricators and welders who were doing this type of metal fabrication all their lives. This combination of experienced employees, support from friends, and lots of help from his wife has enabled him to fulfill his dream of manufacturing quality fabric buildings.

YoderWay Building began from scratch, from drawing out truss arch style ideas to professional engineering. To ensure consistent production, the jigs we use in the manufacturing process were built specifically for our buildings. All metal production is done in-house, making quality control much more effective. Our focus is giving you the best quality/cost ratio. We engineer each building to your specifications and use only quality components.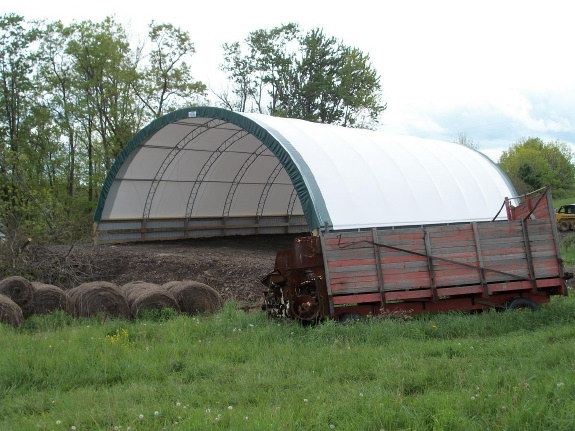 With both domestic and international customers,YoderWay is always looking for a way to serve you best. Giving you to option of dealing directly with the manufacturer or with a local business you already have a relationship with, YoderWay has dealerships in different states and is continuing to expand their dealer list, hoping to eventually have a dealer in each state. We feel as more people recognize the advantages of unsurpassed natural ventilation of our buildings over standard pole buildings, there will be an increasing demand for these fabric buildings. YoderWay is determined to fill that demand with high quality fabric buildings supported by a backbone of trust, communication, and world class manufacturing. Whether you decide to install the building yourself or use our construction services, you can expect to receive superior technical support throughout the installation process.

As always we remain concerned and focused on giving you the best possible service price in the industry and  superior performing products to meet your every need. Our extensive quality control and well trained staff, stand ready to assist you in any and every way we can to help you and your business be successful. Thank you for your interest in our company.

299 Jonestown Road
Thompsontown, PA 17094
717-535-5149
Fax: 717-438-0283
FAQs

Q: If i get a hole in my cover, can you fix it? 
A: Yes, we can. It depends on the size of the hole but most of the time, your Local Dealer can heatweld a patch that is as strong as the original cover. We have do-it-yourself adhesive patches that can be applied as well.

Q: Can I install the building by myself?
A: Yes you can; at a very low cost.  Our certified constultant will assist you in any way; on the job site he will explain the building to you, or over the phone with any techanical questions you might have along the way.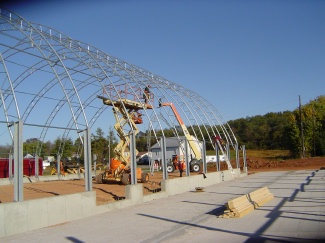 Q: Will you install the building for me?
A: Yes, YoderWay Buildings will provide their construction crew and construct the building kit start to finish. We also offer the option of having a YoderWay Construction Supervisor on site to guide your own construction personnel.

Q: Can I get financing for my YoderWay Building?
A: Yes. YoderWay Building can be financed through Ag Choice Farm Credit. For more information contact your local Ag Choice Farm Credit office today.

Q: What information do you need to give me a price quote on a YoderWay building?
A: YoderWay only needs your name, address of the proposed job site, size of the building, and its intended use to give you an inital quote.

Q: How much will it cost when or if I have to replace my YoderWay building cover?
A: We figure the replacement cost of the cover, on a average, would be less than one third of the cost of a complete building kit.

Q: How long will my building last?
A: The useful life expectancy of a cover is 20- 25 years. They can be replaced at that point for approximately less than one third of the cost of of a complete building kit.

Q: What material is the cover made of?
A: The cover is made of Nova - Shield II™ with ArmorKote™ manufactured by ECP- ENGINEERED COATED PRODUCTS. Our 12.5 oz. covers are the standard of the industry with a 15 year pro- rated warranty. This high destiny fabric provides maximum strength & longevity while blocking UV rays & allowing light to pass through.



Q: What colors are available for my YoderWay building?
A: Clear, white, blue, green, beige, and red are the colors our covers come in. You can customize your design by putting these colors in the middle, at one end, at both ends, or the over the entire cover.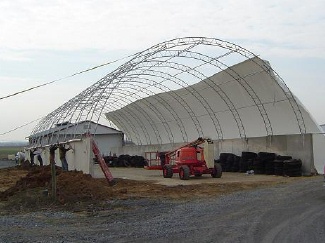 Q: How do I know this is a quality building?
A: Yoder Way Buildings are engineered, down to the last bolt to ensure you will receive a quality product at maximum strength & longevity by Timber Tech Engineering.